Day 8 – Volcanoes in Leon, Leon – Granada, Nicaragua
Yet another amazing optional activity that is really popular in Leon – volcano boarding! This was something very new to both of us, but something that we absolutely had to try!!
We left Leon early morning and travelled to the nearby Cerro Negro volcano. After a 45-minute hike, we reached the summit. It was time to don our big red suits and helmets, mount our boards, and slide down the side of the volcano! There are no words to describe the exhilaration at how fast you go!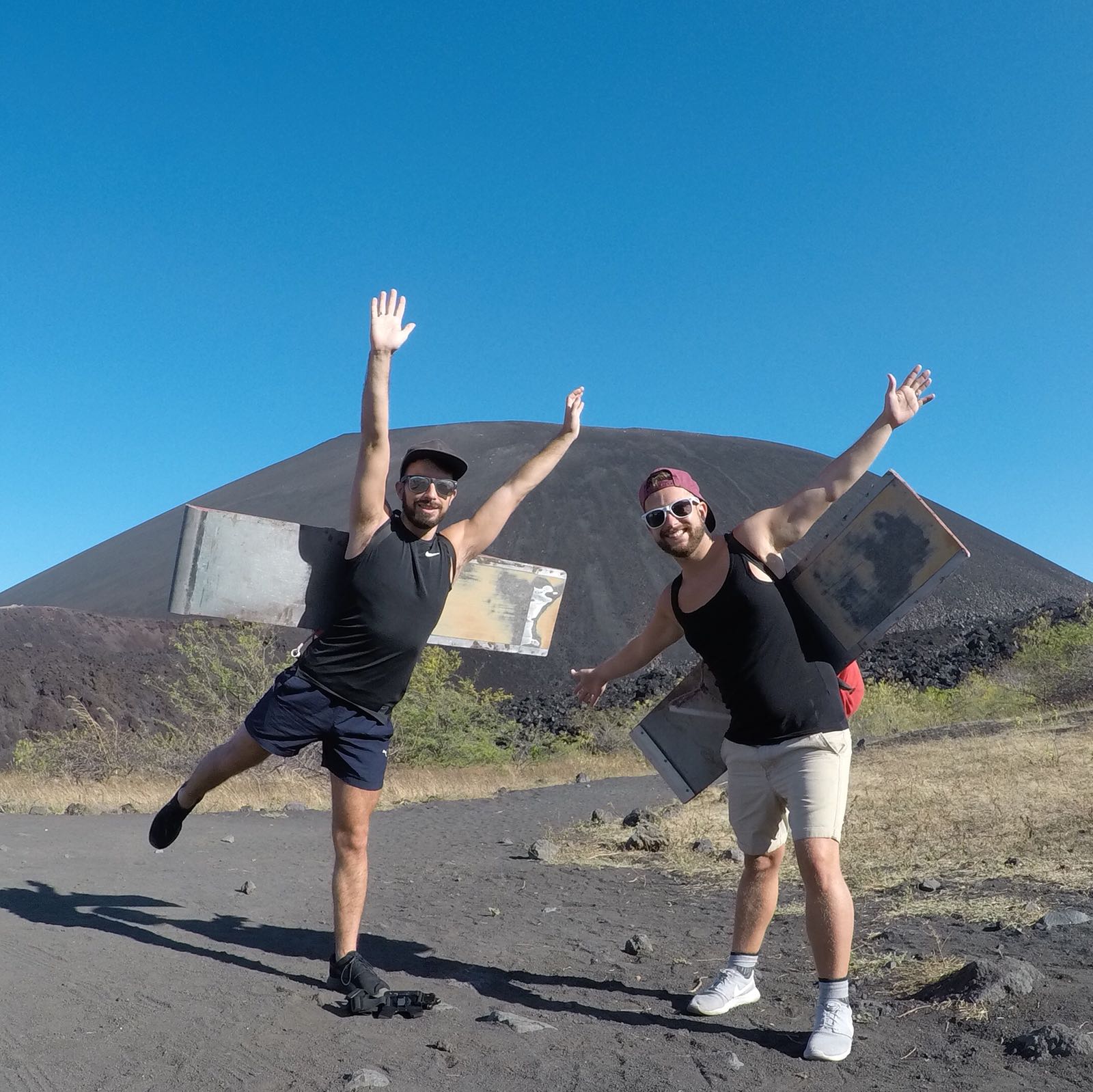 En route to Granada, we had to option of stopping at yet another volcanic site, this time a crater lake. It was nice to get off the bus and be able to have a swim in the warm water, and enjoy some beers overlooking the lake and the surrounding volcanoes.
And then just before we hit the city of Granada, time for our third volcano of the day – this time to see lava! We were taken to a viewpoint of a still active volcano, from where you can actually see a river of molten lava. This was a completely mind-blowing and rare experience!!
And to top off the best week with the best people, a night out in Granada following our final group dinner!
Our tour was nothing like we expected. We thought we would be following a guide with a flag from A to B. We expected being told where we can go, where we can't go. We thought it would be restrictive, rushed, with no time for ourselves. We couldn't have been more wrong!
We had the best experience on our Central America tour. We discovered places we wouldn't have had we been on our own. We met some of the friendliest local people and tasted some incredible local food. We got to relax for a whole week and have someone else take care of all of our travel plans for us. And, best of all, we met some fantastic new people that we have become lifelong friends with.
Before you decide you are a totally independent traveller, next time you are making your travel plans, at least consider a tour.
Take a look here at ST FLYs range of worldwide adventure tours, we can guarantee they will have something to suit! Check out their Instagram page for some inspiration!
P.s don't forget to follow our Facebook page, YouTube page and Instagram to see more and keep up to date!